Doctor Supervised Weight Loss
HOW CAN I LOSE WEIGHT?
There are numerous ways to lose weight from risky fad diets and diet pills to healthy diet and lifestyle changes. Unfortunately, many people try to lose weight using risky fad diets that most often cause a severe unbalance of vitamins and minerals from limiting certain foods that are important for the body to function. This unbalance can cause unwanted health problems. Using diet pills can also cause many unwanted side effects including serious issues with the heart.

Sadly, most people who attempt to lose weight using fad diets or diet pills can't continue long term or lose a few pounds and end up gaining the weight back and more.

The key to long term weight loss that is good for you is to follow a healthy diet and make lifestyle changes that will help your body obtain true long-lasting results.

Some examples of healthy diet and lifestyle changes are:
* Avoid processed foods
* Cut down on refined carbs
* Stop the added sugars in your food
* Drink plenty of water
* Choose more high fiber foods
* Eat fresh vegetables and fruits
* Make sure to consume the proper amount of protein for your body at each meal
* Get more active
* Follow a healthy but effective doctor supervised weight loss program such as ChiroThin.

WHAT IS CONSIDERED DOCTORS SUPERVISED WEIGHT LOSS?
Doctors supervised weight loss can mean many things, it all depends on the type of doctor or healthcare professional and the types of weight loss methods that they are using. These types of weight loss programs are usually recommended by a doctor or other healthcare professional based on your individual goals, health history and current health condition which is supervised in a clinical setting. The most common weight loss methods used by medical doctors are the use of weight loss medications, injections and invasive weight loss surgeries. Other healthcare professionals may use pre-packaged foods, custom diet plans and certain types of supplements to aid in fat burning.

Here at Multi-Care our doctors supervise all our weight loss programs to ensure the patient is following the correct plan for them and is getting the best results for effective long-term weight loss. We only use an all-natural holistic approach to weight loss. Click here for more information on our highly successful programs.
WHAT IS DOCTOR MONITORED WEIGHT LOSS?
Doctor monitored weight loss is basically the same as doctors supervised weight loss. A doctor or other healthcare professional monitors your results throughout your weight loss journey. Important areas to monitor are blood pressure, adverse reactions to the diet or new concerning symptoms. The doctor can handle these unwanted symptoms or reactions and make any necessary adjustments to the program to ensure you are on the right path to reaching your weight loss goals.
WHAT CAN DOCTORS DO FOR WEIGHT LOSS?
Some people have no problem losing weight on their chosen weight loss program, but many people have extreme difficulties either losing weight or keeping it off once they do lose it. Some people eat healthy and exercise everyday and still can't seem to even drop one pound.

Going to a doctor or other healthcare professional that specializes in weight loss can be right solution for those that don't have success on their own. Here at Multi-Care Holistic Health Center, our doctors will guide you to the best weight loss option for you and your body's own unique needs. We offer the following methods to determine this:

* Comprehensive hormone testing to see if are suffering with hormonal imbalances effecting your weight loss potential
* Thorough understanding of your health history and current health status to recommend the correct weight loss program
* Doctor's supervised weight loss programs using an all-natural holistic approach
* Monitoring your results to ensure success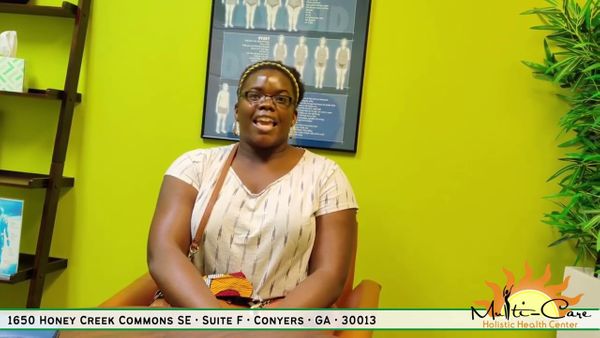 Multi-Care Holistic Changed My Life
"The weight-loss program is miraculous! In the first six weeks, I lost 48 pounds - 82 pounds total since I continued following the program for additional cycles. I was taking several medications, including Metformin for Type 2 Diabetes.
I am no longer diabetic. Over the last 5-7 months I have eliminated three prescription meds and dropped my A1C from 6.8 to 5.7."
-Tony P.