Multi-Care Holistic Health Center always appreciates feedback from our valued patients.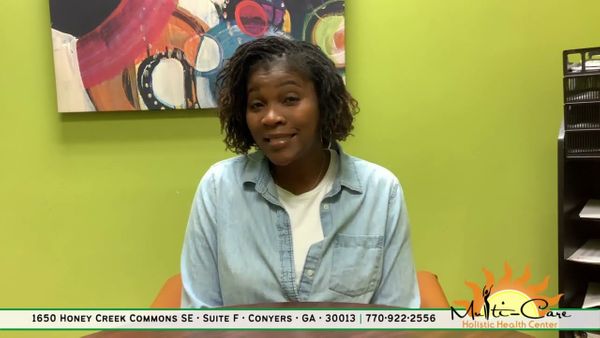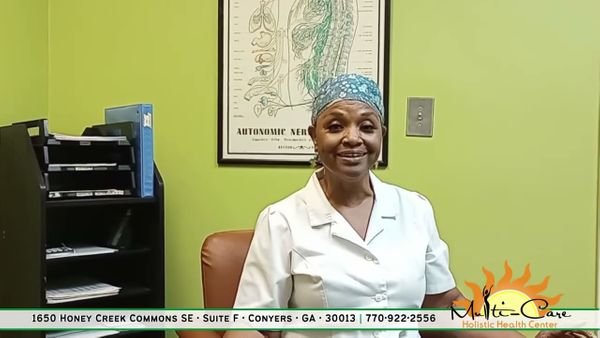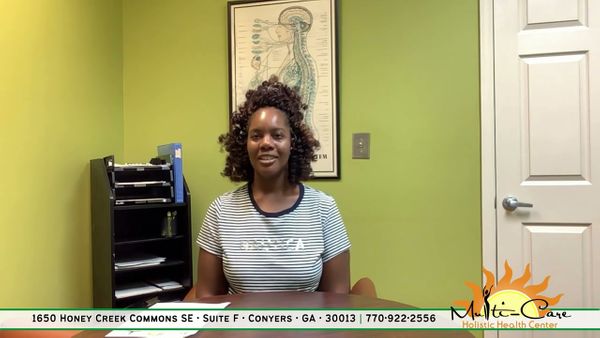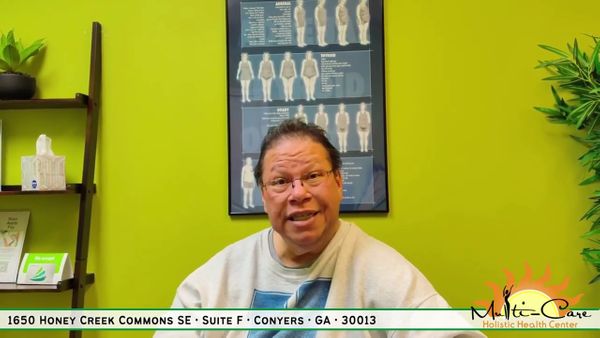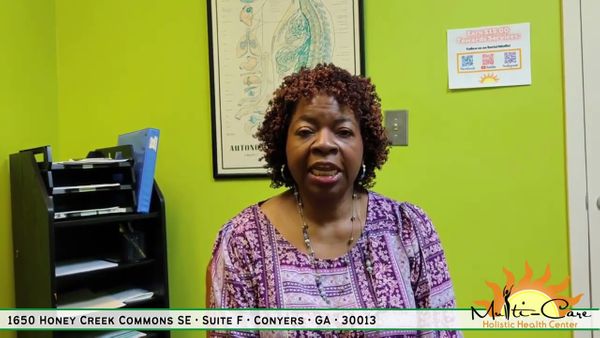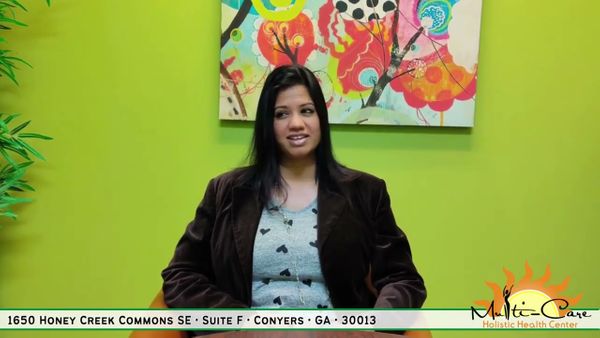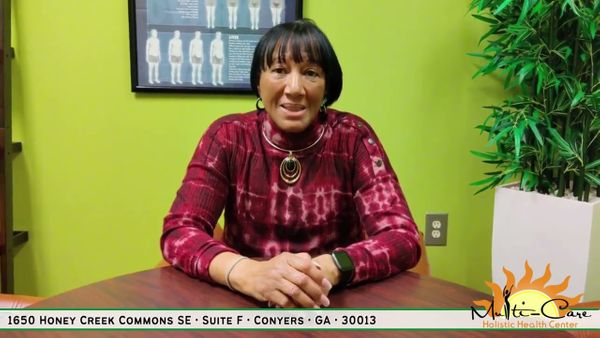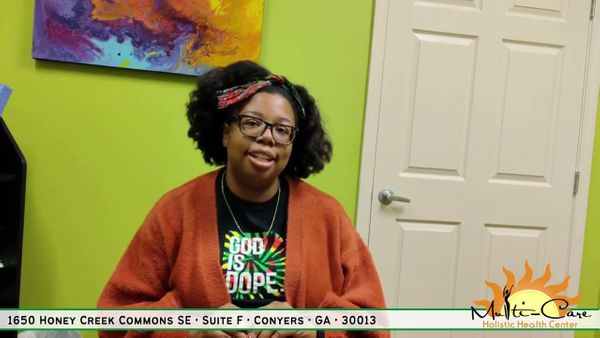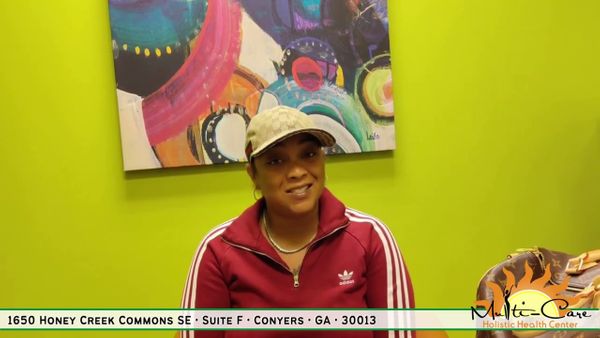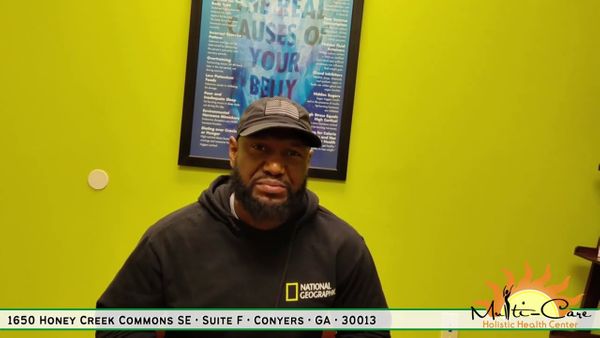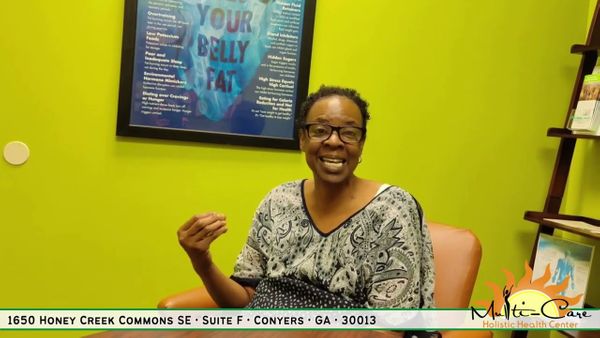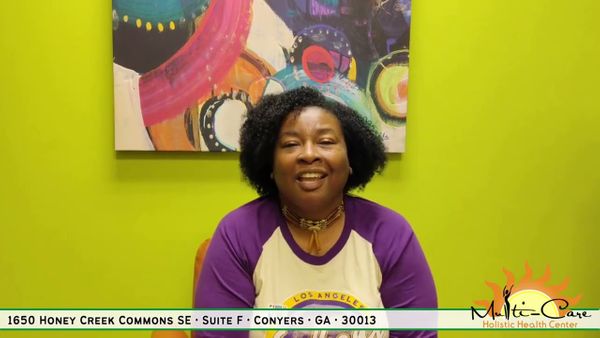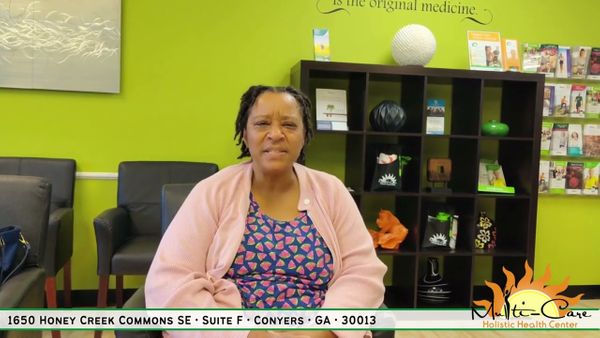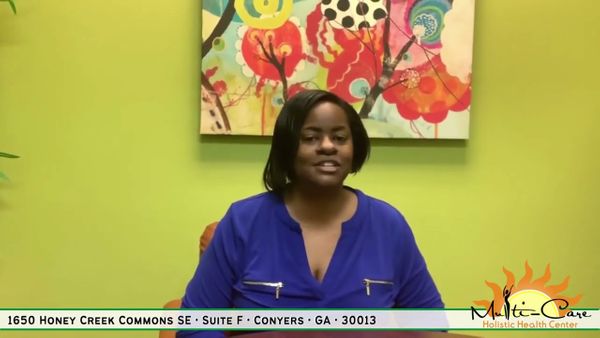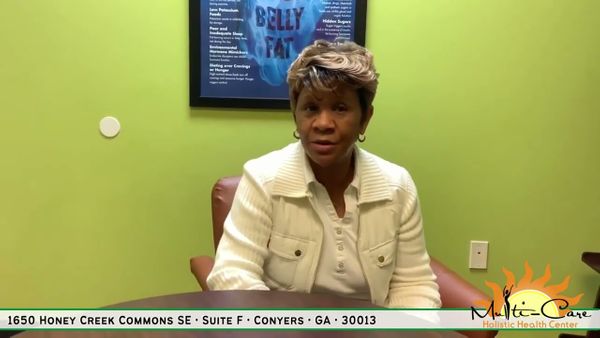 Read our patients' reviews to find out what they have to say about our services.

Good People Make a Great Place
I totally enjoyed my unexpected visit even under the circumstances...I used to work for a holistic care center and his was even better. I would recommend this to anyone in need of the services the staff there was great and even now they still check on me to see how things are. I think good people make a great place to visit and that is what I got from my visit...all I have is one word AWESOME!!! thanks so much for all you do and all you have done for me to make me feel comfortable...yes Miriah I'm speaking of you and Dr. J you were a pleasure to have met and thanks for all the laughs you gave me through the pain and the rest of your staff Ms. Vicki : ). You all were great, keep up the great work!!
-Cass H.

Miraculous!
AWESOME!! AWESOME!! AWESOME!! Multi Care Holistic has changed my life. The ChiroThin weight loss program is miraculous! In the first 6 weeks I lost 48lbs and 82 lbs total since I continued following the program for additional cycles. I was taking several medications, including Metformin for Type 2 Diabetes. Over the last 5-7 months I have eliminated 3 prescription meds and dropped my A1C from 6.8 to 5.7 and my goal is 5.0.
-Anthony P.

Thanks Dr. J and Team!
I have been a patient at Multicare for many years. Everything I had issues with, and took to traditional doctors first, we're resolved here. I suffered with reflux for years, taking RX's that are now being recalled, but after taking supplements for a few months, the reflux was gone and has not returned10 years later! I was in a car accident, after 2 rounds of weekly physical therapy for a year on my lower back, there was nothing more they could do. I've been getting the Miracle wave therapy for 2 months and my pain level has been cut to almost none (2 more months of therapy to go), but I can bend without pain 90% of the time. Thanks Dr. J and team!
-Trish K.

So Grateful
I am so grateful to have been referred to Muti-Care. It has made me see how important choices about the food I eat matter to my health. I can't wait to make it to my ideal weight and maintenance! This will work if you do the work!
-DeAnna M.

Help You Stay on Point!
I really like going Multi Care Holististic health center they really see that your health is in place from your blood work to the water intake ,to help you stay on point!
-Alma N.

Great Wholistic Care!
Dr J has been amazing. He helped me figure out which hormones were out of balance and why my body wasn't absorbing nutrients, and the best diet for me to be my healthiest self. He also straightened me out after a car accident that caused me to have whiplash! Great chiropractic and wholistic care!
-Christa B.

Never Felt So Confident
I visited Dr.Johnson in March 2021 as I wanted to loose some weight and get back into the habit of eating healthy. I also had some severe joint pains which I later learnt were caused because I was eating the wrong foods and as a result my joints were inflamed. I particularly liked the program as it was closely monitored by a doctor . The program was for 6 weeks and I was challenged to lose at least 20 lbs. I have been on other diets and it was a difficult task, but I decided to challenge myself. After following the program I began losing weight, by the end of the first week I lost 5 lbs and of course I was motivated to push myself to achieve the desired 20 lbs. By the end of the 6 weeks I had lost a total of 23 lbs, however I was so impressed and excited that not only had I lost the weight but the inflammation was also gone. I decided that even though the program had ended I would continue eating the same portions and sticking to the same menu. I did this for another month and ended up losing a total of 32 lbs. I have never felt so confident and so healthy in such a long time. Thanks to Dr. Johnson and his caring staff.
-Claudette R.

The Best!
Dr. Johnson and his entire team at Multi-Care Holistic Health Center are courteous, knowledgeable and obsessed with giving quality, customer service. From the first time I called, they made me feel like I was the most important patient they ever had! Dr. Johnson's supplement and weight loss regimens have changed my life. Co-workers, friends and even out of town family members have benefited from the health care they've received at Multi-Care. All medical providers should take a class with Dr. Johnson to learn more about genuine patient care. He is THE BEST!
-Munajj S.

Thank You Multi-Care!
I had heard good things about Multi Care, and saw their ad in the MTM shopper, so I had to check it out for myself. I have struggled with weight loss for so long after hitting my 40's, and with my frame being unable to carry the extra weight, it started causing me health issues. As soon as you walk in the door you are greeted with smiles and everyone is so kind and accommodating. I absolutely 100% loved the service that I got, and if you are looking for quick weight loss in a very natural way, this is the ticket, this is the place that you go, this is the way you do it! I was so excited from start to finish. Every single question I had was answered and with no hesitation just sweet, kind, thorough answers. I never felt rushed or uncomfortable. I felt great when I left, I was so pleased with everything and everyone, the whole experience was just amazing! I am looking forward to meeting the doctor, this natural way will help my body lose weight and keep it off by getting my body's metabolism and other specifics that sometimes gets outta whack in a woman's body, as we get older, functioning as it should, naturally without chemicals or medications. The way nature intended! I am just, so excited about this experience, and starting a new chapter in my life, something for me. And since I am only provided 5 stars on this review, I decide to give them 5 more of my own! Thank you Multi Care!!!
-Stephanie O.

Positive Results
I've had positive results from getting treatments.
-Katrina R.

Highly Recommended!
Dr. Johnson is the best! I could hardly walk due to knee, back, and hip pain. Only a few visits before I was feeling much better! Highly recommended!!
-Blakely A.

Just What I Needed
I was recently diagnosed with vertigo. Also I was having severe pain in my pelvis and hip area,And a friend suggested that I go see a holistic doctor instead of the regular doctor. So I Googled a couple of Holistic Physicians. And Multi-care Holistic health Center is the only one who stood out to me. Dr. Johnson treatments was just what I need. And his staff is awesome. They truly make me feel comfortable every appointment.
-Debra P.

Instant Relief
My visits have been great! The staff are awesome and pleasant. Dr. Johnson is very professional and the procedures he used on me gave me instant relief. I will refer as many people as I can to him.
-Crystal L.

Highly Recommend This Office
Dr Jay has been a life saver! After turning 40 my check engine light came on. He was able to assist me with a natural way to loose 30 pounds and balance my hormones. No more hot flashes and I have soo much energy. I highly recommend this office.
-Shan M.

Forever Grateful
I was diagnosed with Sarcoidosis in November of 2020 and with Steroid treatment I gained a tremendous amount of weight and started having a lot of joint and bone pain. I found Multi-Care Holistic Center and Dr Johnson, he started me on an anti-inflammation diet and I could tell the difference right away along with losing 13.5 pounds. I then started the Chirothin program and lost another 17.5 pounds I am forever grateful to Dr Johnson and his staff. Thank you.
-Merlinda H.

The Staff are Awesome
The staff & Dr. J are awesome. I have been on the ChiroThin and I am on week 4 and have lost 13 pounds thus far. If people are looking to lose weight and change your style of eating this is it. But the drops also referred to as liquid gold drops does the magic too along with sticking to the 4 ounces of protein, veggies, fruits & breads.
-Carmen B.

Treats Root Cause, Not Symptoms
I'm a retired Military veteran, biker and former athlete that suffered many injuries and deal with a lot of pain. Dr. Johnson and the Miracle Wave technology has been my rejuvenation to being active again. I use him and his staff for almost all of my health needs because he treats the root cause, not symptoms. Love this place to pieces.
-Zirie B.

I Feel Great!
Dr. Johnson is great! I feel Great! The staff is great! Def recommend!!
-Brooke A.

The Best Care
Upon moving to Georgia, I struggled to find a holistic focused center to address my health concerns. Dr. Johnson has been so wonderful, he gets to the root of my concerns & always provides the best care. I have and will recommend The Holistic Health Center, Dr. Johnson, and his professional and detail oriented staff to anyone!
-Sara V.

Friendly & Kind
Dr. Johnson is up front and does what he says he can do, he see you at your appointment time no long waits,everyone is friendly and kind, when test are done or a new plan is described everything is explained he walks you through step by step and answers all questions.
-Richard B.

Great Atmosphere
The staff is so welcoming and are an added bonus to the already great atmosphere!
-Jessica G.

Will Be Coming Back
Loved the experience here! The staff was super friendly and great, from the moment you walk in the door to the moment you leave! Specially Ashley! . Dr. Johnson was very informative and helped me lose the weight I needed and their body sculpting treatment is the best! My body looks amazing after the treatments, more toned and leaner. Absolutely love it, will be coming back!
-Cynthia O.

A More Natural Approach To Healthcare
I absolutely love the staff at Multi-Care Holistic Health. I stumbled upon this location after countless failed attempts at getting proper treatment from a regular doctor. I wanted to try a different approach to medicine, so I googled natural medicine in my area and found this place. Dr.Johnson is AMAZING and pinpointed my issue on my first visit and helped treat my issue in just 2wks and my cough went away completely with the supplements prescribed to me. I would highly recommend this location to anyone wanting to take a more natural approach to healthcare. You won't be disappointed and most importantly, you won't feel like a patient. Everyone will quickly seem like part of your extended family.
-Orion C.

Super Helpful!
Staff and Dr. Johnson are super helpful! I love the services they offer! Highly recommended!
-Brittany E.

Truly Recommend
I love this place. I was a patient there many years ago and I keep coming back for the outstanding services they provide. The staff are very friendly and displays great costumer service. I truly recommend to anyone.
-Julene S.

So Glad I Chose This Program
I have never done a weight loss program and I'm so glad I chose this one. Everyone is awesome.
-Joy D.

Services Are Fantastic
Dr. Johnson is the best and the staff is so great !! I feel so welcome coming every visit. Lost 20th since I've joined in November. Highly recommended!! All of their services are fantastic.
-Kitty M.

The Best
I am so glad I found this place. The staff is absolutely the best.
-Jodie L.

Exceeded My Expectations
My experience with Multi-Care Holistic Health Center has exceeded my expectations. I visited Multi-Care to get help with losing weight. I lost 10 pounds the first week. Dr. Johnson is very attentive. The staff is exceptional. They are very friendly and everyone greets you with a smile.
-Maxine S.

Extremely Professional
Great experience! The program really works and the staff is extremely professional.
-Angela C.

Dr. J is the Coolest
Awesome staff and Dr. J is the coolest. Everyone's customer services has always been superb!
-Johnny H.

Very Supportive
Very supportive staff and office.
-Erica C.

Dr. J is the Best!
Great and friendly staff, Dr J is the best!
-Satisfied Patient

Treated With Care
I absolutely love the staff! We are always greeted with a smile and treated with gentle care!
-Twanita P.

Saved My Life!
Dr J Saved my life!
-Mz S.

Great Visit
Great visit as usual!
-Transformed M.

Customer For Life
It was so GOOOOD I am going back tomorrow for more. Well done doc, you have a new customer for life!
-Daynier B.

Highly Recommend
Highly recommend Dr. J and his staff!
-Gerson F.

Friendly, Personal & Encouraging
Friendly, personal, a different perspective, encouraging and Thomas Johnson went out of his way to make sure there were no extra expenses for anything. A genuine concern for the patient's well being.
-Mary C.

Love Them All!
Dr. J is very nice and knows what he's talking about! My husband and I both see him for multiple reasons. All the ladies in the office are great! Mrs. Vickie is the sweetest woman and really offers the best help! Mrs. Sandra is very sweet and helpful! Love them all!
-Kayla D.

Great Staff
Great Staff. Warm environment. Dr. Johnson has a great bedside manner. Great variety of healthy supplements for sale.
-Cornelius S.

Dr. Johnson is Amazing!
Highly recommend! Friendly staff and Dr. Johnson is amazing! From the moment you step into the office you're greeted with welcoming smiles and a friendly atmosphere. Dr. Johnson really takes the time to listen to you and he thoroughly the treatment plan. I'm so grateful he was recommended to me.
-Chelsie C.

Wonderful Experience
Wonderful experience with Dr. Johnson and all other employees here. They were able to get to the root of the problem and the herbal supplements have helped tremendously!
-Stacey H.

Amazing
Such an extraordinary place! Amazing customer service, great chiropractic experience! Dr.J is our favorite doctor! Hurray for the office as well! Like a family!
-NCCA R.