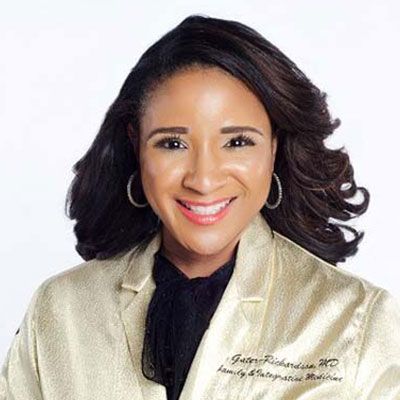 Meet Dr. Jameelah Gater, M.D., Physician
Dr. Jamelah Gater, M.D. is a board-certified physician, providing her services at Multi-Care Holistic Health Center. Visit our Specialist today. For more information, please call us or schedule an appointment online. We are conveniently located at 1650 Honey Creek Commons SE Suite F, Conyers, GA 30013.
What is the educational background of Dr. Jameelah Gater?
Dr. Gater grew up in the suburbs outside of Detroit, Michigan. She received both her undergraduate degree and a medical doctorate from the University of Michigan and completed her Family Medicine Residency at Emory University in Atlanta, Georgia. She is currently a board-certified Family Medicine Physician with a focus on Integrative and Emergency Medicine.
What other expertise does Dr. Gater have?
Being a steadfast advocate for health and wellness prompted Dr. Gater to seek additional training in Integrative Medicine. Integrative Medicine is healing-oriented and focuses on the whole person, including their mind, body, and spirit. She completed her Fellowship in Integrative Medicine in 2009 under Dr. Andrew Weil at the University of Arizona.
In addition to her busy medical practice, Dr. Gater enjoys public speaking and educating patients. She currently serves as the resident medical expert on the television show, Lauren Lake's Paternity Court.
What is Dr. Gater's Care Philosophy?
Dr. Jameelah enjoys working towards better health with each of her patients by combining conventional medicine with evidence-based complementary and alternative therapies.
What are Dr. Gater's achievements?
Dr. Gater has received many honors, including Resident of the Year from the Georgia Academy of Family Physicians and the Thomas C. Davies Family Practice Award from the University of Michigan.
Does Dr. Jameelah accept my insurance?
Most major insurances are accepted by Dr. Jameelah at Multi-Care Holistic Health Center. Please contact or visit us for further details.
Is Dr. Jameelah accepting new patients?
Yes, Dr. Jameelah is currently accepting new patients at her clinic, which is conveniently situated at 1650 Honey Creek Commons SE Suite F, Conyers, GA 30013.